Sanitary fittings manufacturer Oras Group has long been a category frontrunner towards digitalization of the bathroom experience. This position is strengthened further by acquiring the majority share of the Swiss tech start-up Amphiro.
–Every aspect of people's homes is getting smarter and more connected, and there's no exception with showers and faucets. We are confident that several digital solutions will surface in the sanitary industry in the years to come, and we intend to continue to be in the driver's seat of this evolution, says Oras Group President and CEO, Dr. Markus Lengauer.
Oras Group has recently secured the majority share of Amphiro, an established Swiss tech start-up with significant competence within energy harvesting, Internet of Things and cloud services. The immediate access to these technologies and know-how, combined with Oras Group's expertise on advanced sanitary fittings, allows for rapid development of innovative products and services that foster health, comfort and sustainability.
–Personally, I welcome every new product and service that assists people to make conscious choices and help preserve the world's resources. And I strongly believe in smart use of technology combined with a superior user experience. Amphiro has proven the ability to deliver both very intuitive and highly useful technological solutions, and their ideas and thoughts for the future are very much aligned with what we believe in Oras Group. We are very happy to include the Amphiro team in our family, says Dr. Markus Lengauer.
–For Amphiro, Oras Group is an ideal owner. We designed all components with high production volumes and easy installation in mind, and our cloud solution is highly scalable. This opens the world of data analytics, user engagement and digital services also to the world of sanitary fittings. With Oras Group's excellent market access and know-how, we can now make our vision to build digital services around mass market faucets become a reality, says Dr. Thomas Stiefmeier, founder and CEO of Amphiro.
Oras Group has been leading the digital and technological uprising in the sanitary fittings category. The company has for many years been market leader in the touchless faucet technology to both residential and public buildings. The acquisition of Amphiro is a clear signal of Oras Group ambitions and the company's visions for the industry future.
For any further questions regarding the investment in Amphiro, please contact Oras Group President and CEO, Kari Lehtinen: +358 40 6722 050
Oras Group is a powerful European provider of sanitary fittings: the market leader in the Nordics and a leading company in Continental Europe. The company's mission is to make the use of water easy and sustainable and its vision is to become the European leader of advanced sanitary fittings. Oras Group has two strong brands, Oras and Hansa. The head office of the Group is located in Rauma, Finland, and the Group has four manufacturing sites: Burglengenfeld (Germany), Kralovice (Czech Republic), Olesno (Poland) and Rauma (Finland). Oras Group employs approximately 1400 people in twenty countries. Oras Group is owned by Oras Invest, a family company and an industrial owner.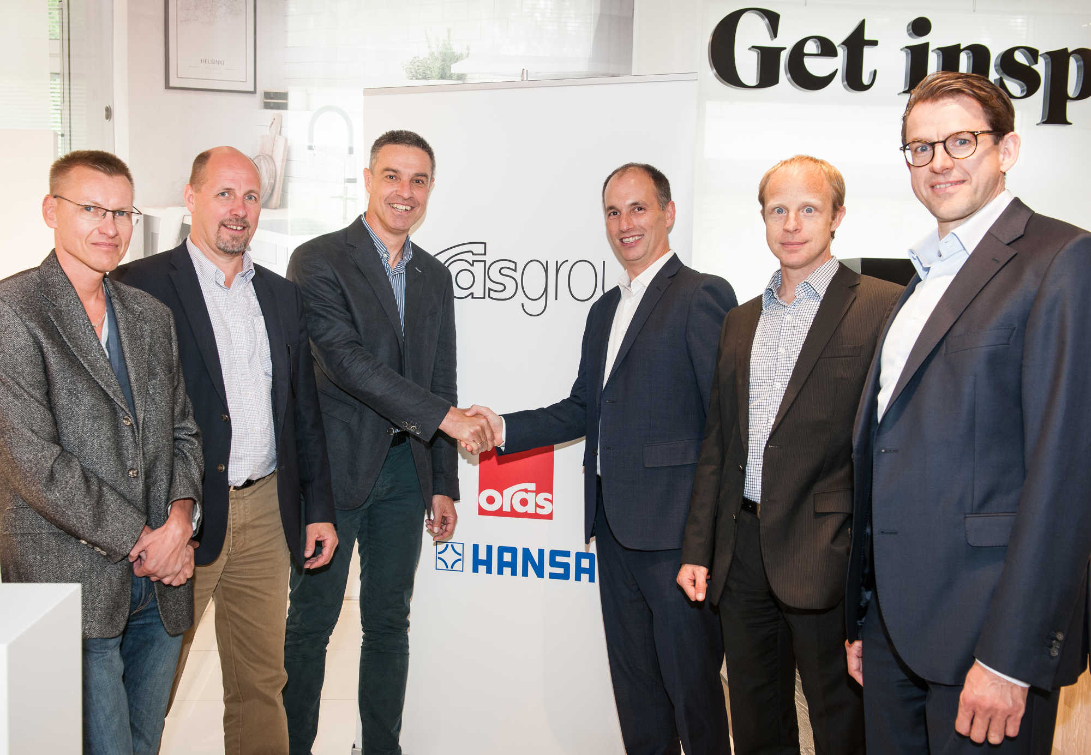 Press image (persons from left to right):

Jyri Virrantuomi – CFO of Oras Group

Janne Rautavuori – CTO of Oras Group

Markus Lengauer – President & CEO of Oras Group

Mr. Thomas Stiefmeier – founder and CEO of Amphiro

Mr. Thorsten Staake – founder and Board member of Amphiro

Mr. Kai Millarg – shareholder and Board member of Amphiro